Flash-Back LJ Post Import: Review: Taobao Spree compared to Qutieland, Infanta, Dear Celine, Dream of Lolita, and Boguta
Well, truth be told, I started browsing TaoBao for shoes (but ended up getting bodyline shoes on half-off instead. XD) and in the process I fell in love with some things. Well, to be more accurate, re-fell in love with some things once I realized that they were available and cheaper through a shopping service than from Qutieland.
I decided on Taobao Spree, and had a good experience shopping with them.
They do orders via e-mail using a spreadsheet, or a list. I filled out the spreadsheet and sent it in.
and here is my shopping list:
Boguta: http://boguta.taobao.com/
Infanta: http://shop33035817.taobao.com/
Dear Celine: http://shop10274962.taobao.com/
Dream of Lolita: http://shop34501739.taobao.com/
So, 6 items; A dress, a coat, two skirts, a blouse and bloomers (plus a bow and a brooch, which actually was two brooches as we will see below.) plus their fees, and shipping from the seller to the agent for $199.16…
When my package arrived, it was a thick plastic bag… literally covered on all sides with tape. The bag had multiple, fused layers to ensure nothing could get through.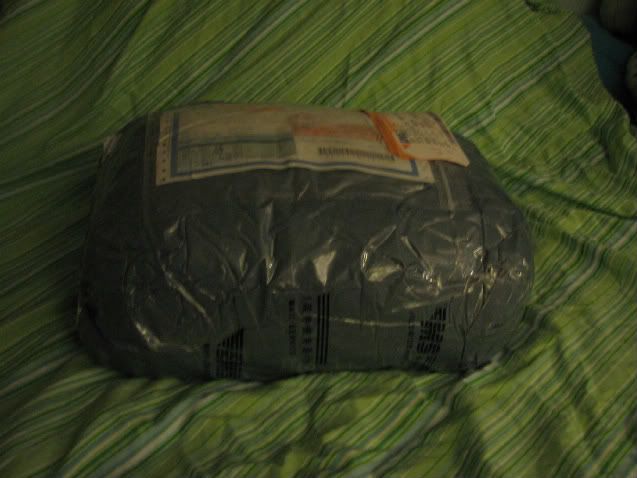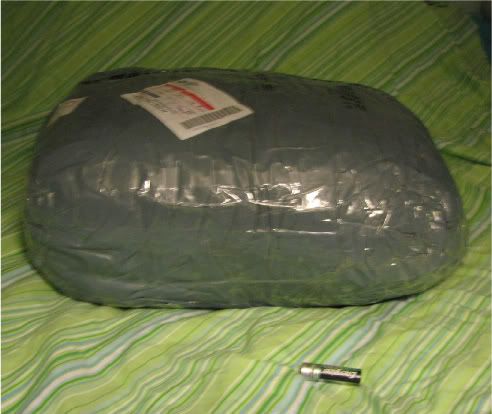 battery in second photo is to show the size of this bundle. XD
Inside were lots of variously wrapped packages!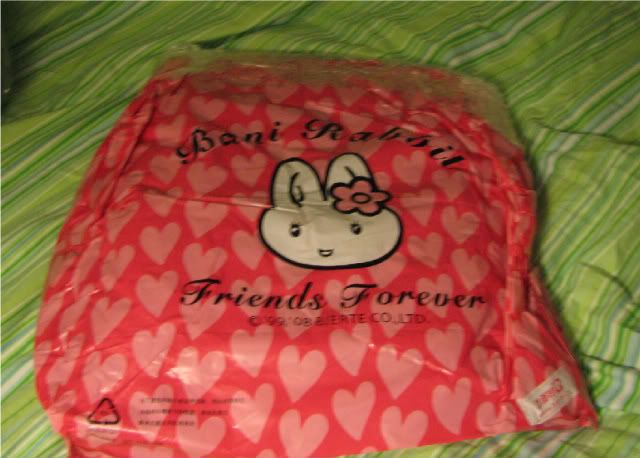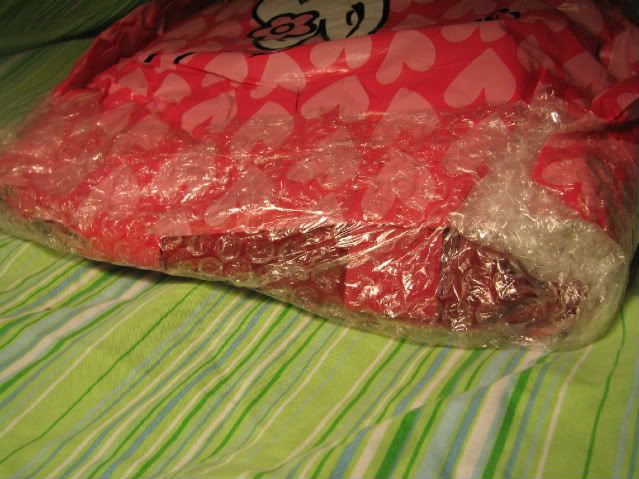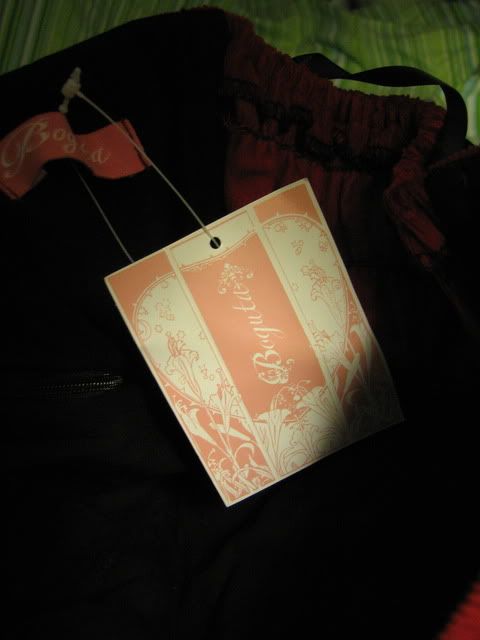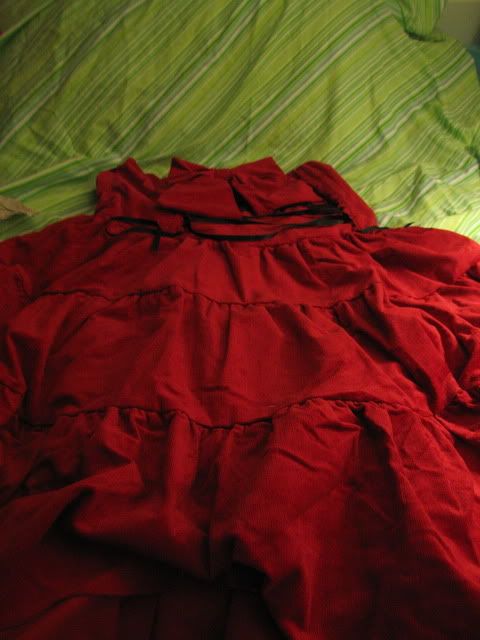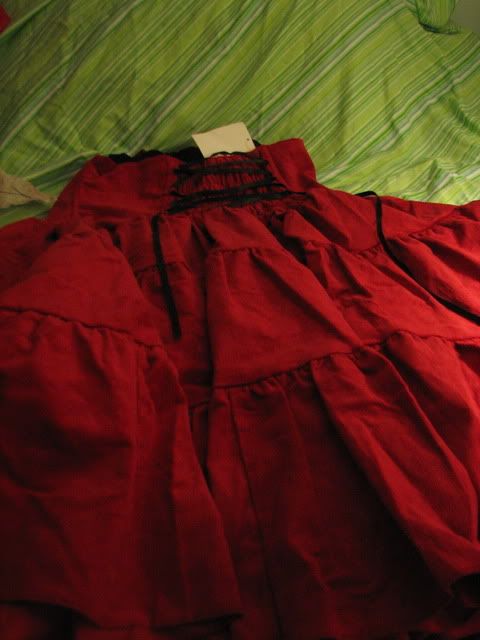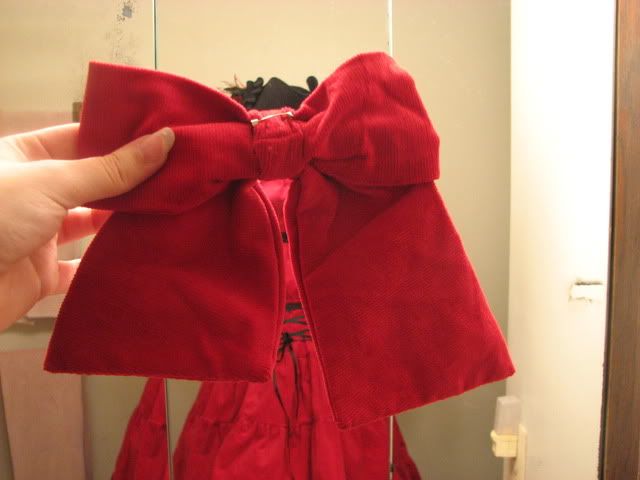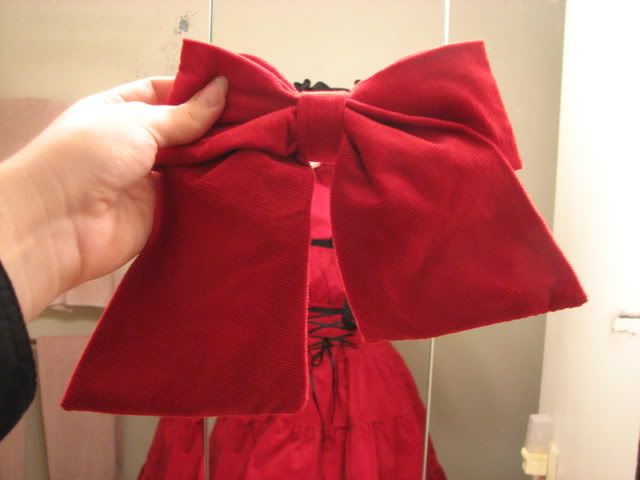 this is from Borguta! My dress didn't quite fit the bag so they improvised with bubble wrap. No damage or anything and I was able to peel it all off the cute bag! 😀 ) and photographing it on my bed wasn't happening. So, it's corduroy, and it's got some weight to it. The bodice has some light boning, the back has a shirring panel, the front does not, but both have lacing. the top of the front has elastic. it's lined with black cloth sewn into the top of the bodice that stops around the bottom of the first tier.
I used google translate which said things about a bow in the page, but I'm not sure if it was right, because when I translate with chrome, now that I have it working; I can't find it. I had told Miss Zeng I would like a bow like on the model's head if could. So, I got a bow, and it's actually a pin on one, and really lopsided… It came pinned dead center of the top of the bust looking all 'hey I'm a childish bow in the middle of a rather mature dress' and I couldn't help but giggle and unpin it. I'm hoping I can find a way to make it look like the one on the model; any ideas? I feel like the model might be wearing a wig, and might have pinned it to the wig >.>; Either way, I'm not sure if I should be dismayed with how lopsided it is, or love it for being such a special little bow. XD; Lets just say I'm amused.
As far as the fit goes, it fits with room to spare; in fact, I was a little worried at how big it is. It seems to shrink up well enough with the lacing though. Veeeery forgiving dress. I need to change how I laced it so it's tighter in the back though and looser in the front! XD;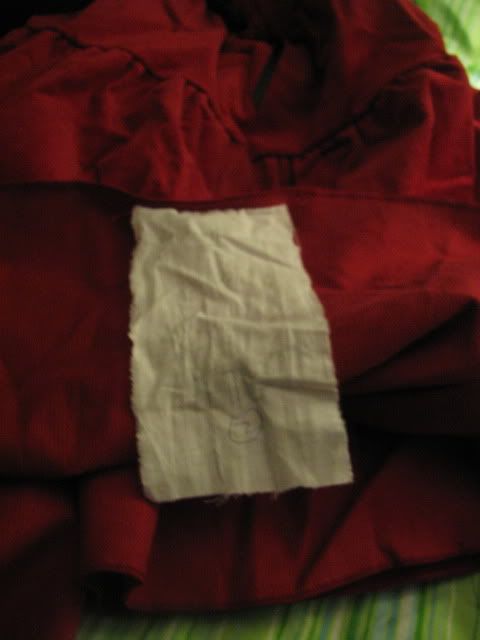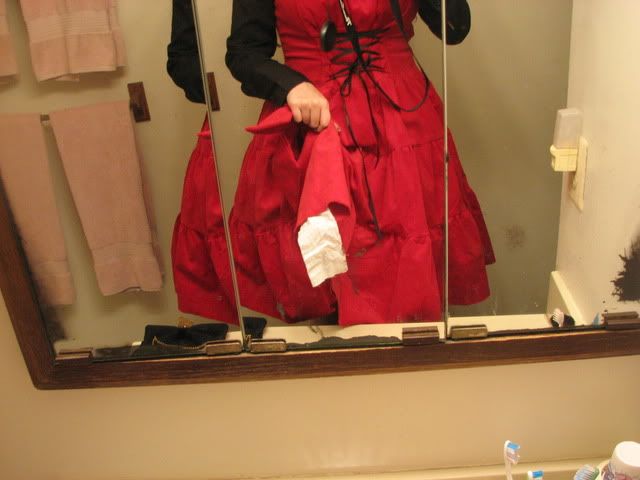 this is sewn to my lower hem; any ideas as to what/why?
Please pardon my terribly, old bathroom mirror and the mirror shots, these were taken at like 2am, and there isn't anywhere else with enough light.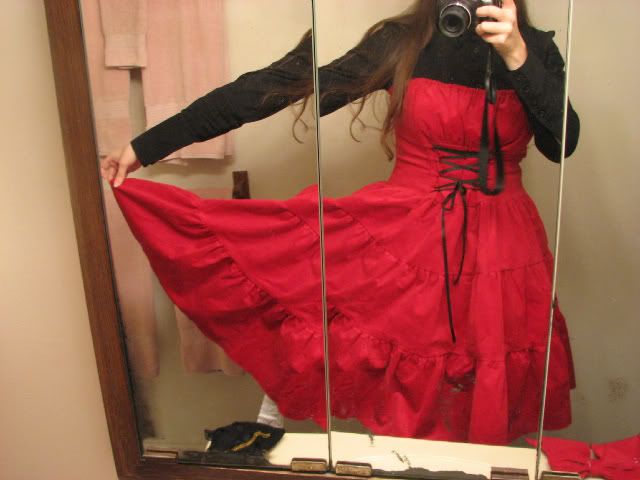 I hadn't gotten the lacing front and back adjusted right yet, but, here is a quick worn shot. the skirt is full enough to lift like that on both sides. It's a little long too, but that's on me; they asked, and I gave bad numbers for the length because I was clueless on how long to ask for on a strapless dress. it's got a little rolled hem, so I think I can hem it properly without it getting too bulky. The ribbons in the lacing are cheap satin ribbon, and there is a TON of it. (I guess I'm supposed to trim it? XD )
The fabric is a little odd though, and I don't know if it is because it's unwashed, and corduroy is just like that (I haven't owned anything corduroy in YEARS, but I don't remember is being like this) it's… well if I ball it up in my hand, the wrinkles kinda stay until I smooth it out, or if I take part of the skirt and bend it and make it stick straight up… it defies gravity and stays… XD;;; it's slightly stretchy.
Lastly, it's a little funny; they used the black thread in a few places where it should have been the red thread and vice-versa. Mostly it looks like they had red on the spool and black on the bobbin (or vice-versa) in those places, and the black part is all on the inside. It doesn't make a difference, as you can't see it anywhere, but it's a little odd. XD;
the boning is stiff, yet flexible. not sure what it is made of though. I'm guessing either a thin metal, or very stiff plastic.
All in all, I'm happy with it.
Quality: 4/5 (the bow is odd, the fabric is a little strange, but the construction is better than anything I have from Bodyline)
Packing: 4.5/5 (it was kinda funky, but hey, it worked XD; )
Fit: 4/5 well, I sent body-size measurements… but I seem to have lost weight between then and now >.>; like 4cm in the bust and the waist. which might account for the discrepancies in fit. Either way, flat it's larger than what I sent as my measurements, and has ample room with the shirring. That said, it's far easier to deal with a larger item than a smaller item, so I'm not too upset about it, especially as it laces up.
The Infanta Coat! Firstly, I love it. Second, my buttons are different. They are silver, plastic roses instead of plain black shirt buttons and gold coins. I can't decide how I feel about that. Ordinarily, I'd say roses are awesome, but… it's kinda a piratey coat; I'd almost kinda like piratey buttons better…. The ones on the back and the collar are nice and piratey looking; a coat of arms. The coat is lined and WARM. I was worried this wouldn't fit, but it does with a little wiggle room *whew* it's apparently 40% wool, and has lovely pipping details. The material is soft, the lining is typical coat lining. The lace is very soft…so soft it's kinda floppy.
With the brooch, there are no stones in the crown. The lace is also veeery floppy. plus, the big (plastic) button in the middle flops all around :/ I'm gonna have to find a way to sew the bottom of it down.
It came with two spare rose buttons and a spare pin.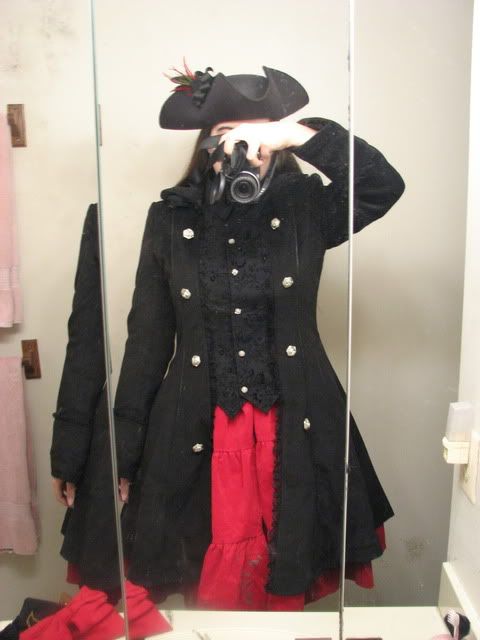 sorry, crummy bathroom mirror shot was the best I could do, and it's after a long day of work, so my pirate hat is hiding my icky hair.
Coat Quality: 5/5 (I don't own any brand coats, only some AP skirts, so I can't compare. But I'm over the moon about this coat)
Packing: 4.5/5 (paper and a bag, nothing fancy, but hey it worked )
Fit: 5/5 pretty spot on to the measurements given; possibly a little larger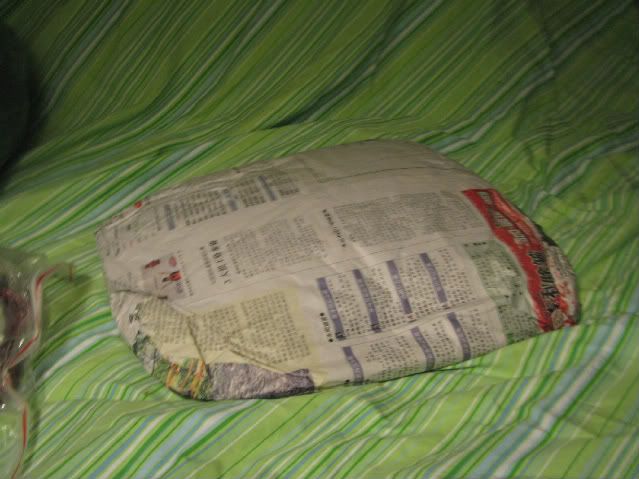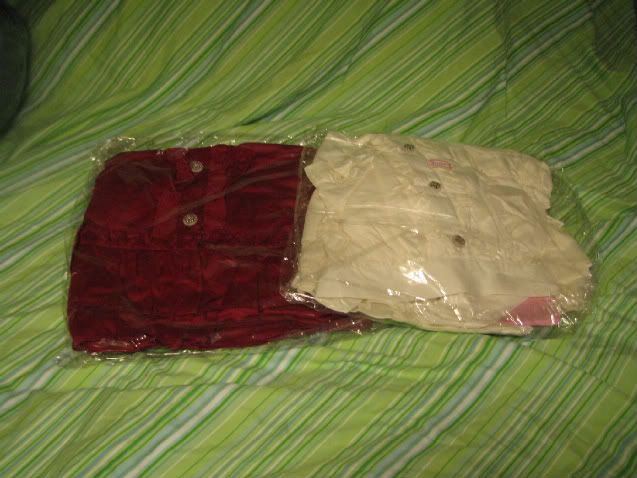 Inside the news print were my two Dear Celine skirts in plastic bags.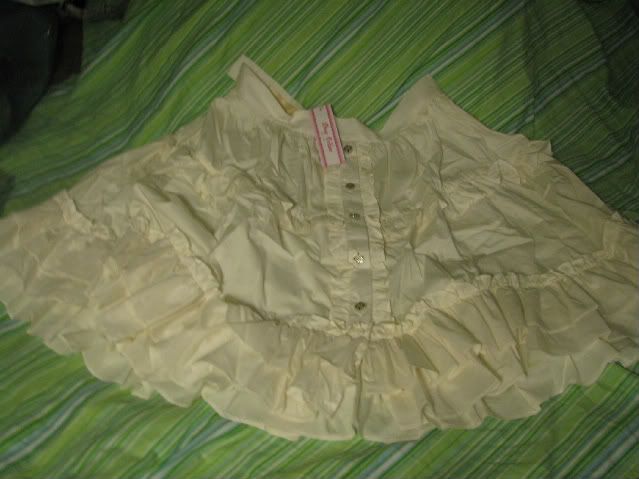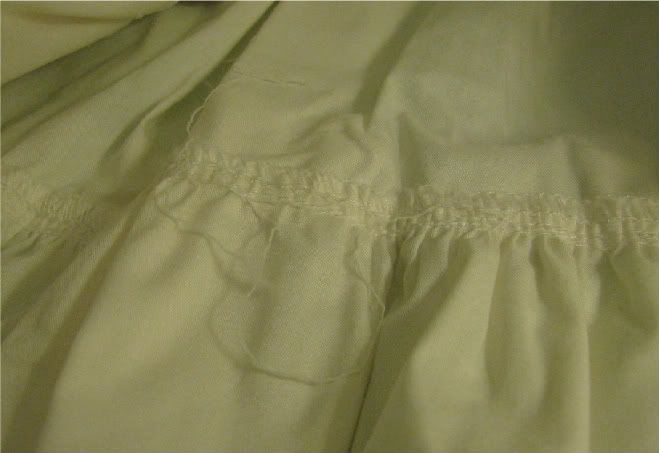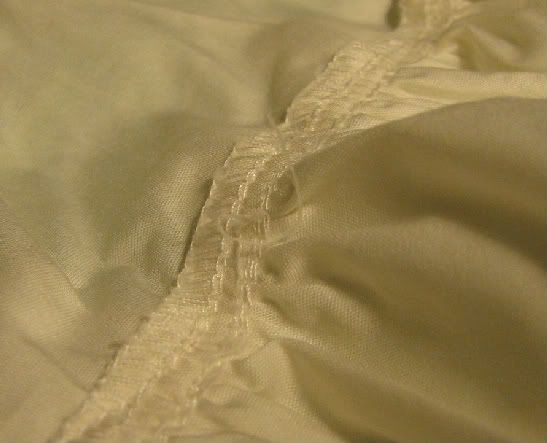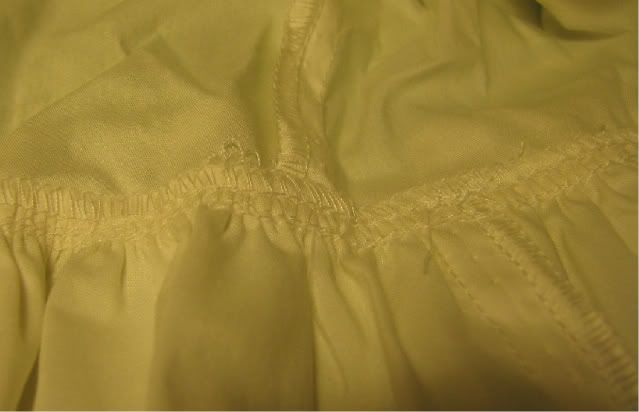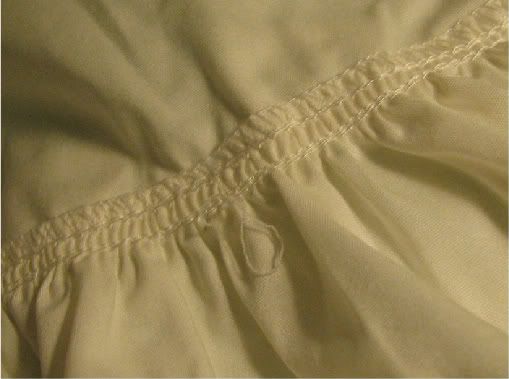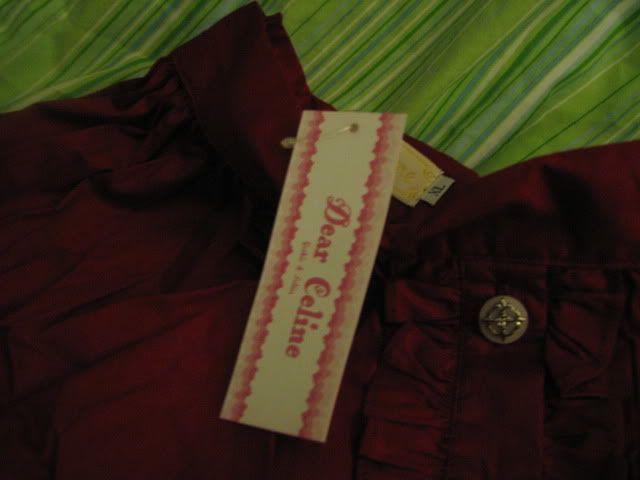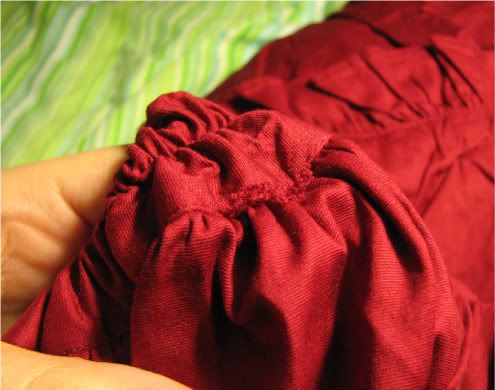 oh-so-wrinkly! Now, the buttons are a nice milky color plastic with a raised flower&cross shape which is painted in metalic silver. Very elegant. The fabric is the same thickness as my AP strawberry picking skirt, though it's a bit more crisp.( I imagine if it is washed or worn a bit, it will become less crisp.) There were lots of thread scraps, but most weren't attached. XD A few were, and there were a couple odd spots. Also, I would like to note that some of the button holes are more snug or less snug than others; but not hugely so. It stays buttoned when worn! 😀
Now, on the red version, they used elastic thread… and they have some very scary thread tangles going on where they attached the ruffle, which I'm assuming is the custom part, as they asked me for my height. There is also a odd spot in the waistband of the red one.
Most of the issues are where the bottom ruffles are attached, which makes me think that this is where the custom length comes in, which would also mean that this was perhaps done by a different seamstress than the rest, and perhaps on a different machine, and both were possibly done at the same time. Which would then explain why both skirts have similar issues on the skirt ruffle attachment, if the machine the seamstress was using was simply being persnickety.
Important notes! These skirts have invisible zips with a big.. fastener… (well, it's not a traditional hook and eye, but it's the big flat kind common on lolita skirts and conventional ladies dress pants?) on the side. The skirt is not split all the way up; the waistband is solid in the front, and the slit with the buttons comes right up to the base of the waistband, but stops short of being across the whole skirt. there is also some elastic in the back that is 10cm unstretched and 20cm streached. which makes the waistband 80cm-90cm
The cream is slightly see though, the red is not. If you wear the cream over black or dark dark colors, you can see a hint through it; if you don't like that, pay the extra bit to get it lined. :3 I'm using it as an underskirt with pastel pettis underneath, so it doesn't bother me.
Quality: 4/5 (My only real issue are the thread tangles; it's on par with my bodyline things)
Packing: I'm assuming that the shopping service repacked these in the paper, since the blouse bag was separate
Fit: 5/5 based on my measurements before, it should be a perfect fit. XD; it's slightly too big now…
So, this is the blouse. It came with a hang  tag, like the skirts, an a pair of spare buttons. It's the standard XL size. Same material as the red skirt. It is not lined, but being dark red, and a sturdy material, it's not see through. there is a strip of 1/8″ black elastic sewn directly to the top of the sleeve, which causes the gathering of the sleeve. The  cuff of the sleeve is done the same way. there is no casing around this elastic. neck straps attach right at the edge of the sleeve in the neckline with clear buttons. The buttons up the front are the same as the skirt. There is corset lacing in the back which came threaded with at least 100″ of double-sided satin ribbon. I know there is a lot of hate for satin ribbon, but nice satin ribbon like this is really pretty, IMHO. I will be cutting a good bit off though! XD
The fit was generous compared to the measurements, however the elastic at the sleeve tops makes it sit a little odd if you don't situate it right. The front gaps on me at the top center when I use the neck straps. Also, it's rather low-cut in the front.
Coat Quality: 4.5/5 (the uncased elastic is meh, but overall it's well made)
Packing: again, I'm pretty sure the shopping service repacked this
Fit: 3/5 (the neckline just is a little odd, IMHO)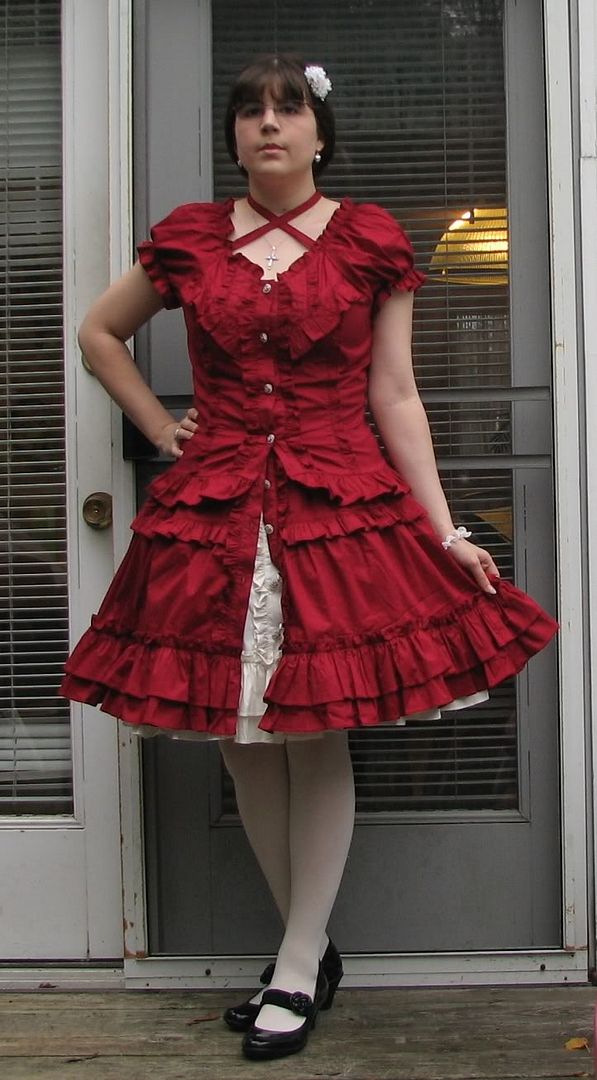 and on me!
So, these looked like they were a jersey material in the stock photo, and had some oddness on the side, but I figured at the low price, it would be worth a try. Plus, I actually didn't have any bloomers! XD I've been going about in these awful pink bike shorts and praying no one ever sees them! Color wise, they are white. My lighting is very bad in my room, and the details on these were after I broke my lamp by knocking it over off the bed. >.>;
The tag on these reads 'Sweet Angel' and they are a nice cotton, actually. 😀 These are flawed. there is no way around it. There is a snag/pull in the one side bow, as well as some messy stitching on the bottom of the same bow loop. The seams are all finished nicely enough, but there are a good deal that are not quite straight. The elastic around the legs is not cased. There is ample, fluffy material and the ruffles are nice and full, so no complaints there. And they were $5. For $5 I don't care if they are hemmed straight or have little nicks in the bows. Seriously, who is looking at my bloomers to begin with! XD;
Bloomers Quality: 2.5/5 (for the craftsmanship)
Packing: again, clearly repacked
Fit: 5/5 (though I don't see how one could go wrong)
Communication Process (for those who worry, like me.):
September 9th
E-mailed 'Susan' to place my order. I sent in the masspay version of the order form and I borrowed the 'how to measure yourself' image from Boguta's shopfront and typed my measurements onto it, as well as including them written in the order form, just to be safe.
Susan e-mailed me back the same day and let me know Miss Zeng would be my agent.
Miss Zeng also e-mailed me that day and let me know that one of my dresses was no longer available from the shop.
Replied to Miss Zeng. (I changed the order to have a second skirt instead.)
September 10th
Miss Zeng sent my total & an updated order sheet
I confirmed that is was correct and asked if I should send payment now
Miss Zeng e-mailed me back saying yes and sent an invoice via paypal
I made my payment with paypal masspay (less fees! :3 )
Miss Zeng asks for the length of my skirts, coat and dress on behalf of the sellers, and my Infanta also asks for my weight.
September 11th
I send back the numbers requested, and my height (but I sent a different height than before by a cm or two.. oops >.> )
Miss Zeng contacted me back checking if all the items were for me, and which was my height?
confirmed the 1st height was right
got an auto reply 'out of office for the weekend…' and then a confirmation message from Miss Zeng. XD
September 26th
Message from Miss Zeng, all my clothes came in, my shipping balance, weight & an updated order spreadsheet
sent payment for shipping (3.89kgs.Shipping fee is USD58.75)
Got a confirmation and was told I'd get a tracking number
September 28th
Got my EMS tracking number!
October 1st
Package reached the USA in NY in the morning and was at my door with the daily mail (USPS) before noon o___o!
so, as you can see, she was really helpful, and sweet and she paid close attention to the details, like my height mix-up.
Taobao Spree
Communication: 5/5
Order Process: 4/5 (I'd prefer a shopping cart system; it makes me less nervous)
Packing: 4.5/5 (I'd prefer a box, but man, that thing was taped up like fort Knox. It would have taken a whole pack of angry cats to get in there.)
Time: 5/5 perfectly fine, the only thing that worried me was waiting for them to get my stuff, but it was well within the time frame they stated; I'm just a very anxious little lolita!
Price: 5/5 (fabulous compared to some others I've seen)
I would order again through TaoBao Spree, I would order again from Infanta. I would probably order again from Dear Celine and Boguta, though I'd probably stick with standard size things from Dear Celine, personally, and stay away from odder fabric with Boguta. As for Dream of Lolita.. well, I'm not sold on their bloomers, but I am sold on their purses. And so, I'll gonna tack on one last review.
This is a purse from Dream of Lolita that I bought in May through Quitie Land:
http://www.qutieland.com/product.php?id=547
Order Placed: 4/26/2010
Shipped out on 5/10/2010
Recieved: 5/13/2010 (my tracking number still works, so I nabbed the delivery date. XD;  )
I also bought these shoes:
http://www.qutieland.com/product.php?id=62
and the review is here: http://community.livejournal.com/egl/16039888.html
| | | |
| --- | --- | --- |
| Items Total | : | 555 $HKD |
| Voucher discount | : | – 0 $HKD |
| Shipping | : | 363 $HKD |
| Order Total | : | $918 HKD |
Communication was great, they checked if I was ok with the color of the shoes and such by providing an example of a blue shoe in another style that was the same color. The e-mails were better written than the ones from taobao spree, and the shopping cart system made ordering much more simple. I most certainly don't blame them for the quality of the shoes either! XD I did want to review the Dream of Lolita bag, since I'm giving a somewhat unfavorable review to the Dream Of Lolita bloomers though!
I also wanted to mention that while the bag isn't currently in stock at Dream Of Lolita, comparing other bags between Dream of Lolita and Quitieland's prices there is a good bit of a mark up. Same with the things I bought above that are also listed on Quitieland.
anyways, that aside, onto the bag.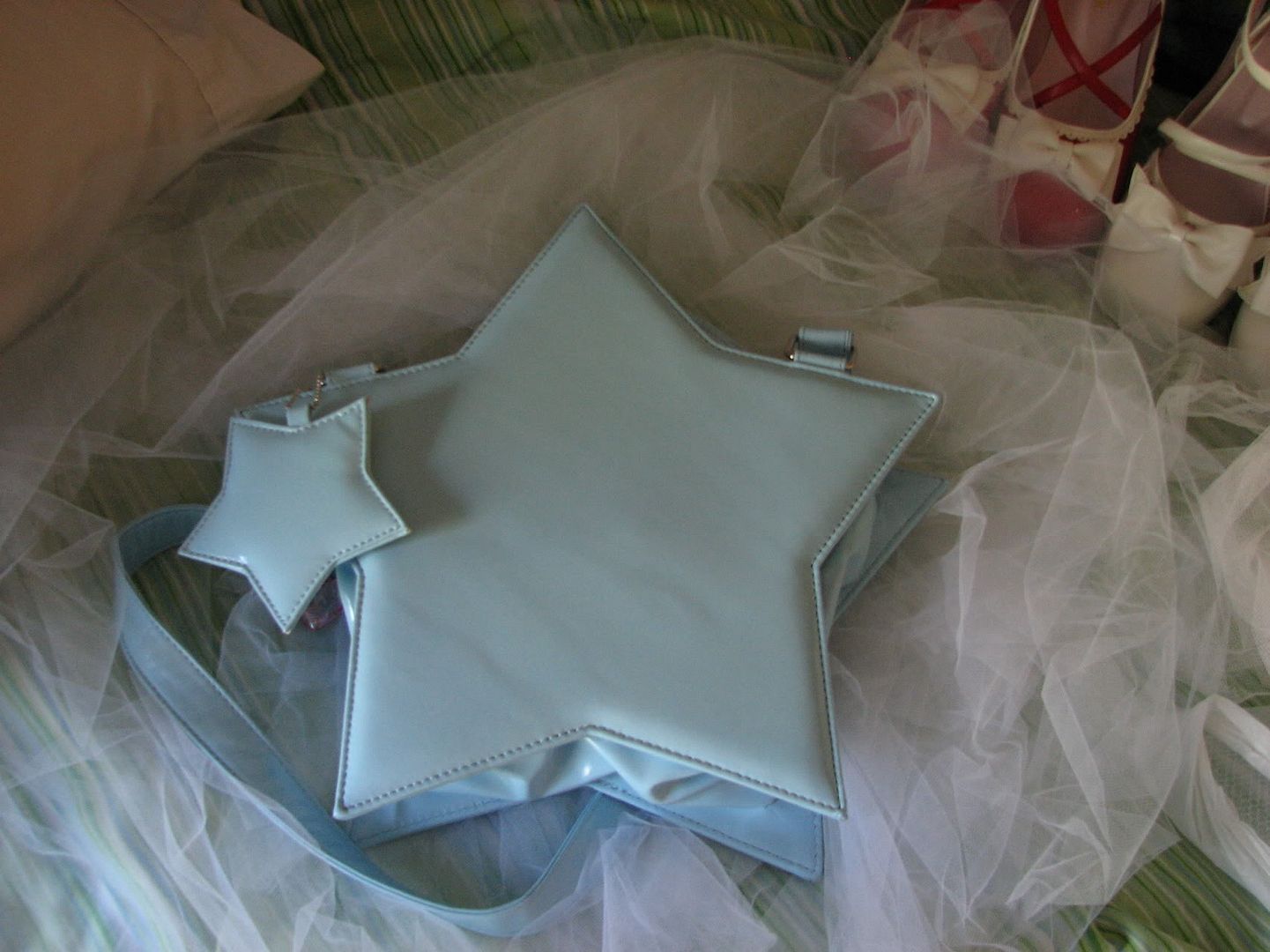 (I got lazy and didn't crop the photo, so you can totally see my new bodyline shoes and my pillow in the back.. sorry! XD )
It's a vinyl sort of material, I think? if you press a bit of the strap to it it makes that slight sticking sound that is common with that sort of material. the star it's self is stiff with some sort of board in it, and then a layer of stuffing (not so thick that it's all bulgy, but not so thin that its too hard.) I took this to Otakon and managed to get a bottle of soda, my wallet, glasses case, phone a small brush and a few other things in it. don't be fooled into thinking it's small! XD it's about 6.5 cm across the pouch on the bottom. Nicer lining than my bodyline strawberry bag, and the little pocket on the inside zips up nicely. the zipper teeth and fabric on the purse match the blue nicely, but the pull is a little metal one with a heart pull. (NOT the pink heart you see poking out from under the star key-chain; that's actually a phone strap made by a dear friend that I attached to the zipper pull as my phone doesn't have a spot for a strap) The stitching is straight and very well done, no flaws in it. and the little star is on a ball-chain keychain thing, so it can be taken off.
The purse strap is a total of 138cm and buckles so it's adjustable. It's lightly padded and attached with little metal rectangles with round edges and seems very sturdy. From point-to-point at the widest part the purse is 33cm.
The only thing is.. there is a right and wrong way to wear it. The strap is on one side. if you wear it with that side facing out, it stabs you in the side. flip it around so the side with the strap is against your body and it's very rarely stabby-stabby.
So the final verdict on Taobao Spree v.s. Quitieland is, IMHO, that if you are very nervous about buying online, buying from Taobao, and about communication, OR if someone non-loli is buying you things as a gift, you might want to go with Quitieland. The process is a little smoother, and more familiar. It will cost more, though.
Personally, I'm of the sort that is quite willing to go with taobao spree and the lower prices.
Boguta
Dear Celine
DOL
Infanta
Old Post
Qutieland
Review
Taobao
TaoBao Spree